Mar 06, 2021
How does Web Design affect your brand?
Owning a well-branded website design is always an absolute strength not only for Online Marketing but also for Online business. It brings great practical benefits that can directly affect the situation and your business strategy. So, what is a branded website? Why need a well-branded website design? And how web design can affect your brand? Uway will help you find out in the post below.
1. Branded website and why your business needs to own a branded website?
Besides the message and logo, you also need to build a solid "headquarters" for your business on the Internet. This headquarters should be a website of the brand, instead of a page on Facebook or a Blog page.
Branded website is a website that introduces the most complete, detailed, and general information about your company or business as well as marketing your own business products and services to customers who are Internet users (global network) quickly and effectively. It shows the brand they want to interact with. Branded website is seen as your online store. Using other platforms is like you have to rent space, you do not have full control and potential risks. Today, almost no company does not build a "headquarters" on the internet. Make sure your website truly shows who you are and what your company offers to customers.
Today, the internet is more popular than ever and it has been – will be a common trend of humanity. Everything you need is there. Everything can be searched on the internet – including your brand and product. According to the statistics of "We Are Social" as of 1/1/2015, there are more than 3 billion internet users in the world, accounting for 40% of the world's population. With the popularity of the internet, putting your brand on the global network for marketing to more than 3 billion internet users in the world is extremely necessary and urgent. Above all, this method saves time, money, and effort but is much more effective than traditional marketing. Other brands have been doing this for a long time (and possibly including your competitors). So what do you need to do? It is to find a partner who provides good and reputable well-branded website design services.
2. What it means to have a well-branded website
Owning a well-branded website is a must, but like any other product, a well-branded website design has its value classifications. Finding a good website design partner helps your brand reach more users in a shorter time and gain users' trust than poor-quality website designs. Basically, a well-branded website design has five key benefits:
Help you fully introduce your business or company to your customers. Create confidence in your company's services and products for customers.

The fastest place to market the company's strategic products is on the global network. Help your product stand out and be known by many people.

Always get the fastest response from customers.

Catch up with the general trend of the market as well as grasp information about customers' tastes accurately and quickly.

The cost compared to traditional types of marketing services is much lower and more effective.
3. How can a well-branded website design affect your brand?
Whether your well-branded website design is better and more efficient than the competition or not significantly determines the ability of your company to dominate the market as well as in finding potential markets and customers. So, from now on, look for a reputable website design and maintenance partner to ensure your brand is always known and trusted by everyone.
3.1. A Good – website design attracts your potential customers
Having a user-friendly website that is inviting helps customers feel confident in your services so they're more likely to reach out to you. This also increases their brand trust and likelihood for referral in the future and uptick your conversion rate.
3.2. It helps the story and spirit of your business to linger in their minds
Your brand has a story it's bursting to tell. Through your branded web design template, you're building something that people care about and want to buy into. They want to know what makes you special and unique, how you are different from your competitors, and why they should be loyal to you. In a crowded marketplace, perception is everything. By framing your scarcity and dictating your value, you start thinking beyond the utility and functionality of your products and services to become a brand.
Your brand story should create loyalty and create meaningful bonds with your customers. A well-crafted website helps you tell that story. For example, unify your brand message across digital and print media with colors, fonts, and design elements that reinforce the connection between on and offline and consider the message each text conveys.
The effectiveness of a well-branded website design for the business is always more than what you imagine. A website helps you to build a professional image, create trust in customers and build trust in their purchase.
Your website conveys the message and reflects the spirit, expressing your vision and your business. The growth of the internet has also provided the opportunity for a small business to portray itself as a big business. Or, conversely, for a large company to fall into disproportionate positions if the representative website fails to represent its true stature.
3.3. It emphasizes the consistency of your website (whether online, offline, or in any other medium)
To build a successful brand a business needs to build it to be memorable. So what will make customers impress and immediately remember the business? One very effective way is consistent, continuous repetition. Consistency in web design including title sizes, fonts, colors, backgrounds, styles of buttons, spacing, design elements, illustration styles, images, and buttons direction, …
Building consistency in web design also helps to strengthen your branding and keep your brand's message clear. For a customer, it is important for their business that their brand message is so relevant that it can build trust with their customers. If a brand's message is inappropriate or confusing, this can be off-putting for the customer and can even affect sales and inquiries.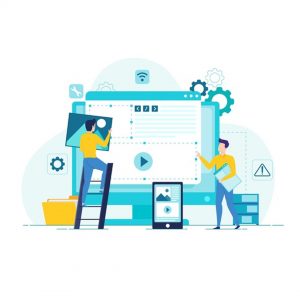 3.4. A good website design will reveal the identity of your business
Just as you have your own personality, your company has a personality as well. It's important to make sure your website reflects that. It represents your brand in the best light possible.
Having a strong and consistent personality can help create trust and loyalty. It encourages community growth around the brand and gives users a reason to buy from you so they can support their favorite brands. Besides, web design can help your company by building a trustworthy website people like to follow and hear from.
Likewise, if your brand is inconsistent it may feel untrustworthy. It can create the opposite effect and people won't return to the site. Users won't trust your company and will have a low likelihood of purchasing products.
Language on the website should emphasize the characteristics and brand culture of the business. If the brand is aimed at young people, the language used should be modern and friendly. If the business is in engineering and information technology, then the language should be serious and specialized. Another way, if it is a website for a bank, the language must be very serious, creating a feeling of trust and safety for customers. Each tone and language used on the website of different businesses will show a different meaning, so in branded web design, businesses should choose a language tone that is suitable for their brand and target audience.
3.5. It makes your website stands out from the competition
Another extremely important factor when building a brand is uniqueness. If your business website looks like its competitors, will that impress customers? How does a prospect tell the difference between the two? By trying to create a unique interface that not only stands out from the competition but also becomes memorable, it creates a better chance for customers to return to the website. times.
Building a business brand helps to differentiate itself from other competitors, and customers easily recognize the business in a forest of different suppliers. So it is important to focus on the match between corporate branding and web design.
The point is, the experience someone has on your site will influence how they think of your brand as a whole. Great website design leaves visitors with the impression that you are welcoming, inviting, and happy to show them around. In short, web design is more than how your site looks and feels — it's also how your brand looks and feels. Come to Uway and our team will help your branded web design represent your brand in the best light possible!
Other articles