Mar 22, 2021
 SEO And Your Chances Of Success On The Internet
More than 70% of Internet users use information search engines before deciding to buy any product or use any service. Then, to reach customers, the first thing you have to bear in mind is that: your website must appear in the search results. That is why businesses are interested in Search Engine Optimization (SEO) to help websites appear naturally on search results and at no cost, and invest in human resources in this area. So what are the benefits of basic SEO?
Let's take a look at the benefits of doing basic SEO as well as explain why using basic SEO tools to optimize a website is really necessary.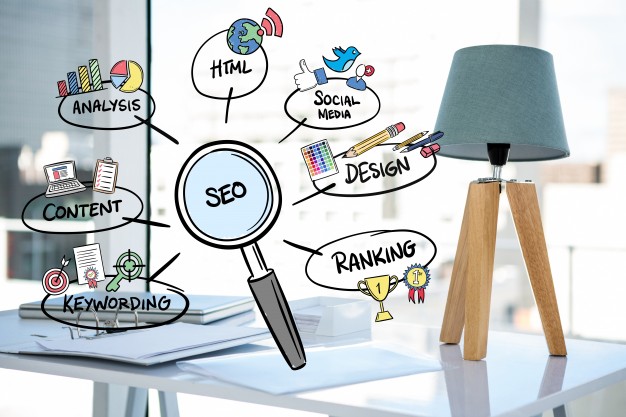 1. What is SEO?
SEO is the acronym for Search Engine Optimization, which means making a website or other types of digital content rank high on Search Engine Results Pages (SERPs) such as Google, and Bing, … SEO is a part of SEM (Search Engine Marketing) and is an extremely effective tool in today's e-commerce boom. Optimizing web SEO helps you get more natural and potential traffic that will likely become your online customer.
Standard SEO is understood to achieve optimal factors to be friendly with search engines. Standard SEO usually includes standard SEO websites and standard SEO articles.
The goal of SEO is quite simple but is it to Top Google? Not really, we find SEO not necessarily micro Top but because of the influence that Top Google gives us. That is Revenue and Brand.
"80% of users click on organic results instead of Google Ads. And of that 80%, on average 65% click on the top 5 results." Those figures don't lie. Therefore, in the process of doing SEO, how much website ranking on the search engine bar is the most important thing. This is similar to displaying your product and making it stand out for customers and be easy to see.

2. What are the benefits of optimizing the website?
When optimizing website costs and time, what benefits will you get when you invest in using Website Optimization Services? Website optimization gives you a more professional website on the available platform without wasting time and rebuilding from scratch. Make sure your brand is appreciated on the Internet and favorable when doing Digital Marketing. Standard SEO web design has the ability to bring your business website to the top of the search engine naturally, you will not have to spend the cost of hiring web SEO companies to support it.
2.1. A channel to attract customers that are sustainable & continuously growing

Optimizing SEO for your website has the opportunity to achieve TOP Google search, which means attracting thousands of traffic to the website. And you can maintain these results for a very long time because basically, the website is optimized for SEO, and well-recognized by Google and you just need to maintain them.
Customers often have the habit of only clicking on the web pages that appear before their eyes on the search results of the Google engine. Through searching and using keywords chosen by many viewers, SEO optimization will bring your website to the top position of Google when viewers search for the right keywords that you have optimized.
Optimizing resources, ensuring acceptable traffic, optimizing the interface, structure, containers, ….. website. The outstanding advantages of website optimization will attract more people to visit your website and of course, your potential customers are among those who come to visit your website!
2.2. Increase ROI rate
Return On Investment (ROI) is the rate of return on investment costs, the higher ROI proves the more efficient the business operation.
With SEO, you can:
– Estimate the profit gained from the traffic.
– Increase the conversion rate of each keyword brought in, and improve revenue.
– Analyze and evaluate the current status of your business website, and solve specific issues that directly affect revenue.
– Optimize your marketing budget for ads by implementing SEO-PPC coordinated strategies.
Of course, once your page appears in the top search, the customer will visit your website first, and you have a 50% chance of getting that order. And being in the business of selling, the most important thing is to win customers, or sell goods. Standard SEO web design will help you do that.
2.3. Long-term investment
Unlike advertising – when you stop investing in advertising, too, SEO delivers long-term results after a period of effective optimization. Your website is still at the top, still attracting completely free traffic, and still bringing in customers even without much implementation.
2.4. Flexible, navigating customers as desired
A website is also a form of Owned Media – a communication channel owned by "the owner".
Because a website is owned media, it has benefits that only owned media has. For example, when I have a new campaign, for example, my website can easily navigate users on the page the way I want such as through internal links, and website banners, … Without any additional costs.
Owned media leads to Earned Media – channels of communication driven by brand strength. As an engaging website and engaging content, online newspapers and users on social media will take notice. Earned media is 88% more reliable to customers than owned media alone.
2.5. Improve user UX / UI on the website
Because Google will base itself on customer behavior to evaluate website quality, you should consider putting your website on the TOP. So, optimizing SEO will do a couple of jobs – both helping the website to be appreciated by Google while helping to score points in the eyes of customers for optimizing UX / UI well.
2.6. Understand potential customer behavior
SEO strategies at GTV SEO are built closely with the customer journey, so each implementation step is associated with potential customers' behavior, clarifying the target audience and focusing on increasing billions. conversion rates effectively.
2.7. Chasing customers with Remarketing
As I said above, SEO can help you optimize your advertising costs with combined SEO – PPC strategies, this also comes from understanding customer behavior.
Many businesses often wonder whether to choose SEO or PPC, but under the experience of industry experts, you should make a remarketing target strategy to target audiences thanks to SEO, such as customers who have visited important pages. inside the Customer Journey funnel because they are the exact lead.
2.8. Building, consolidating, and developing a sustainable brand
Most users using the Google search engine, or other search engines will never stop at finding a keyword or clicking on a website on the search results and then be done. Instead, they tend to search for more related keywords many, and many more times until they have the most complete information.
What does this mean in SEO?
Your website will most likely appear continuously in the eyes of searchers at the top position on Google. And the opportunity will be even higher when users see your business as one of the experts in the business of the product or service they are targeting.
Assuming you consistently appear in the top 5 search engine positions of the keyword phrase they are searching for, are you one of the top 5 experts in the industry? Are you also (and still are) saying "The higher the ranking of a website on search engine results, the more reputable the website is"?
But this is also the truth.
The keyword's search engine ranking is like a vote of belief: "Google puts a website in the top position, which means that the website is a leading company in this field". The higher your ranking appears in search results, the more trust you can gain in the eyes of your customers. Your business or brand name will always be seen by customers first if they do good SEO, and even if those customers have not purchased from you, they will be impressed. good and you will most likely be their pick the next time you buy.
3. To build and design a standard SEO website should pay attention to the following factors:
– High aesthetic, harmonious colors. Perfect interface to every detail, modern features.
– Website layout is easy to see and easy to navigate when customers are browsing.
– The website has fast access speed.
– Integrate sales utilities such as Chatbox – Contact form – Social network.
– Website administration system is convenient, easy to use, friendly, and anyone can manage.
– Standard SEO website structure, easy to top search.
– Website standard mobile, standard Responsive Web Design.
The 7 above SEO standard website design elements are just the basics that a website needs to have, but for customers to know your website, the web needs to be designed according to SEO standards to quickly achieve good rankings on the website. Then your website will easily reach users when they need to search for a product or service, this will help you increase sales, and reach more potential customers not only in Vietnam but also around the world …

4. The 8-step process of optimizing a standard SEO website
The decision to do SEO for your website is an important decision to help improve your website's position on the search results table for the keywords you want to SEO. However, before doing SEO, you should take the time to research SEO. Then you need to research the benefits as well as the costs needed to invest in this.
To exploit SEO effectively, SEO strategy is an extremely important factor, in addition, you should also incorporate other marketing tools like Adwords to improve the effectiveness of the SEO campaign. Google, Bing, and Yahoo are great search engines, so it has their own standards for evaluating and ranking websites. If your website meets many of the criteria of search engines, it will be appreciated and have a chance to rise to the TOP faster.
In order not to spend too much time and effort on implementation, an SEO professional must understand the basic SEO process, specifically as follows:
Step 1:
Build a set of keywords that need SEO
Researching keywords by analyzing users/competitors with the help of analytics tools.
Step 2:
Analyze 10 results on the front page of Google
Once you have built a set of keywords that need SEO, now you need to analyze the competitors that are ranked in the TOP 10 with each of those keywords.
Step 3:
Optimize search intent
Search intent has long been one of the important ranking signals of Google. For SEO to be successful in the coming years, surely you cannot help but learn about this concept.
Step 4:
Create more quality content
Build quality content based on keyword sets.
Step 5:
On-page optimization
Perform Onpage optimization for the website such as URL, title, description, heading tags, … for content
Step 6:
Off-page optimization
Off-page optimization to build backlink systems, and satellite sites, …
Step 7:
Improve efficiency and maintain
Regularly monitor results to make reviews, and continue to optimize the factors that can affect SEO according to Google's search standards.
Step 8:
Advanced optimization implementation
From the amount of Traffic and ranking achieved, take time to analyze more deeply and optimize for advanced such as Audit content, Time On Site, Bounce Rate
Let Uway team help you to build and design a standard SEO website so that you can get all the benefits we listed above!
Other articles