Mar 07, 2021
Optimizing Operation Cost By Building A Website
Currently, online sales and marketing have become a rapidly growing trend in the internet era. To increase the number of products sold with a minimum cost, building a website and having it designed by a professional web developer is extremely necessary. So, what economic benefits do building a website bring?
Expensive cost is probably the main reason that traditional marketing today is not as popular as online marketing. Printing leaflets, producing programs, and organizing offline events all take a lot of money and consume a lot of your effort. This can be done easily online with equivalent efficiency. Currently, online sales and marketing have become a rapidly growing trend in the internet era. To increase the number of products sold with a minimum expense, each individual, small store, or chain of stores wishes to sell online. Consequently, building a website and having it designed by a professional web developer is extremely necessary. So, what economic benefits do building a website bring?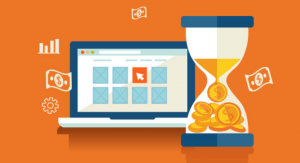 1. Staff expense
If you know how to build an effective website, it can be a helper many times more profitable than your employees. For example, you need to close the store for a while to travel with family and friends. Without the website, it would be very difficult to reach customers who can contact you. A sales website is like a miniature store that you can manage, take care of and take anywhere. As long as there is the Internet, you can interact with many customers across the country and 24/7. You can always advise and serve customers without fear of losing a number of potential customers during these holidays.
When you have a website, you can offer your products or services without hiring additional employees. You will not have to spend any extra money on compensation and insurance for new employees while maintaining sales and services. A website does not work by the hour and you pay salaries, insurance, sales bonus, and other benefits.
The website itself is a dedicated staff, working 24/7 because it does not require anything, each article on the website is like a dedicated staff 24/24 customer care, consulting support questions that customers encounter. It can be said that a website is a dedicated employee, working 24/7 without requiring a salary increase, vacation or leave, etc.
2. Premises costs
Compared with renting premises (in the alley, small road surface, big road surface …) to promote the current expensive products and business, building a sales website is a perfect plan to optimize your operation expenses (Opx). In the retail industry, competition on-premises is the most intense. Especially in Vietnam, this cost is currently accounting for a large percentage, up to 30-38% of the total retail sales while in many countries this rate is only 10-12%. Through the website, potential customers can consult your product information and make purchases on the website which means your business does not need to rent a premises to attract customers' attention.
3. Building a website to reduce Advertising costs
When talking about the cost of media for a national TV ad, you measure it in terms of dollars spent per second of advertisement, also known as air time. According to WebFX – a tech-enabled digital marketing solutions provider, the average going rate for an ad on national TV is approximately $342,000 per 30 seconds of air time. If your business does not want to spend such an amount of money on advertising, try to find some professional web developers and let them save your budget by building a website.
4. Prospecting costs by building a website
Direct mail, telemarketing, email list renting, trade shows, networking, television, radio, and display advertising all have a salary and other hard dollar costs. Additionally, each channel is a crapshoot.
Marketers expect only a 1-3% return rate because they know not all recipients during the release will be in the market to buy. They increase spending on new campaigns, broaden the reach and increase the frequency in hopes of pulling more into their buying cycle.
Is this a waste of money? No, but there's a much more economical way to achieve similar results. Your website objective should be to reduce traditional prospecting costs through search engine optimization. Optimize individual Web pages around relevant and targeted search phrases commonly used by your potential customers.
5. Website provides product information to customers to indirectly increase sales volume
Nowadays, more than 50% of Vietnam's population has been using the Internet, so it has become a habit of most users to consult product information before buying. Simply by being present in the online world through a website, your business will gain more trust than a business without a website. When shopping for any product, people often research the information carefully before making a decision. This is a great opportunity for customers to know, like, and trust your product, if your business is more informative than any other business.
Therefore, when a small shop owner or a large business owns a modern, professional, fully functional online shopping website, they provide a lot of product information that will make it easier for customers to select suitable items, increasing the sales volume of companies, organizations … A website actually helps all of us to crave anytime, anywhere. It helps customers but also helps businesses.
When a website design unit sells online, your website will be integrated with order management and online payment features. These are essential features that help shop owners or businesses receive orders quickly and flexibly and effectively.
With the online payment features, customers only need to pay directly on the website through online payment gateways such as Paypal, and Airpay. In addition, if you do not want to pay online, you can pay directly when receiving the goods. It is extremely convenient, isn't it?
Here are some basic functions that your website should have to save money as much as possible:
Nice and friendly interface, is easy to see, and highly customizable.

Easy product finder

Comparison with other products on the website

Mechanism of enlargement and reduction of products

The full product information description

Related products or the same category

Product quick view

Online payment gateway

Cart support

Chat directly with customers on the website

Section for comment and sharing on social networks.
With a small fee, business owners can completely own a professional sales website, along with a full range of features of an online store to help reduce costs and attract more potential customers in a very simple way. On the other hand, if you are a larger company, the website is also an internal forum, you can interact with your employees by posting newsletters on the website, … to eliminate endless meetings and wasting company resources.
There are many tools for building a website for your business. You can design your website by yourself according to the video tutorials available on the Internet, but to have a professional website, secure from rival attacks, you can hire web design companies to do the job. Building a website costs you how much depends on your requirements.
Research shows that once consumers have an idea of ​​what they need or want, they start doing research and 72% of them go online to find documents, reviews, and reviews about the product. want to buy. In this case, where is your business if you don't have a website? Contact Uway so that our professional web developers can help you to solve this problem.
Other articles